London, United Kingdom
Harrow Decor
#php | #mysql | #javascript | #jquery | #codeigniter | #ajax | #json| #angularjs | #bootstrap
Quintero Solutions helped this e-commerce website create an impressively designed, brand, and attractive image with various templates and page layouts. We also suggested the company optimization of header tags and internal linking. With keyword research, the home decor products and their names were optimized using our SEO best practices. Harrow Décor was a local Home and home decor shop that was based out of Harrow, the UK that we help transform into an unbelievably user-centric eCommerce website. Here you can shop for inspiring all types of beautiful home décor items such as home accessories and furniture.
Web UX/UI
Design
Mobile UX/UI
Design
Ongoing
Development
Digital
Marketing
Harrow Decor as the name suggests needs a lot of understanding of culture, tradition and style. Our challenge was to have a smooth, pleasant web presence which amplifies the beauty of our products. Thanks team Quintero for taking the charge to design and develop our website as we wished. Good Luck!
Furrukh Atiq
Harrow Decor | London, UK
Challenge
The Harrow Décor company needed an advanced eCommerce website to sell their matchless and stylish home decor products online. We helped the company design and create a user-friendly eCommerce platform that is simple to navigate and easy to find all of its products. We wanted to develop them a fully responsive website and simplified maintenance that represented all their values while providing their audience with a user-centric experience that converts better sales worldwide.
We coordinated their inventory with a third-party distributor, allowing the company to store their product off-site and included cost-effective shipment options. Moreover, we also offered cart integration, order management, multiple payment gateways, coupons systems, upselling, and emails management.
Result
Improve overall website appealing and user experience to create a more user-engaging experience.
Create a highly functioning, searchable, and browseable product catalog with easy social sharing options and clear conversion points to contact for a quote
Develop a more SEO-friendly and socially focussed blog to drive user engagement and organic searches.
Introduce limited and custom eCommerce website options for specific products.
Implement a completely responsive solution supported by WordPress CMS and WooCommerce for cart functionality.
Enhanced website performance due to streamlined order placement.The comprehensive backend also means an easy-to-manage solution.
Requirements & Goals
Harrow Décor Client consulted us for web site-wide improvements that included the latest responsive design, easy maintenance, cart integration, multiple payment gateways, coupons systems, order management, upselling, and emails management. In short, we have developed and deployed a robust, trustworthy, and accessible web application.
Connect with Quintero Solutions
If you need an online store that can compete with Amazon or just need advice on website security, our team at Quintero Solutions can help you make the right decision. Consult with the top e-commerce web design and development company in India for secure, accessible, and performance-ready solutions.
Start Your Project
To know more about SEO-friendly eCommerce website design projects that engage easily with your customers, enhance online presence and credibility, and improve reach. Contact Quintero Solutions today!
Check out other case studies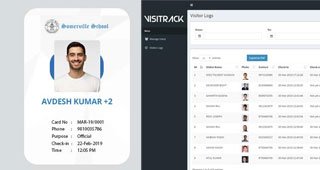 Visitrack
Visitrack is a tablet based visitor management system that allows you to keep track of visitors with simply a tablet and a printer.
Harrow Decor
Provided a full complement of eCommerce development solutions for both web and mobile platforms.